[Tuesday, November 10, 2009]
MIA? ya indeed i did MIA 4 a period of time.. bcos i didnt hv e time n energy 2 blog.. haha.. basically since nw i've free time in camp then i come blog 4 a while.. it's been quite a breeze 4 me how fast i'm goin 2 finish my service term in e air force.. movin on 2 pro term after nxt wk.. fast eh? put tat aside.. anyway darlin also will be havin her exams.. which is her A lvls.. wanna wish her all e best and work hard 4 e uni she wanna enter.. as 4 my part i jus wanna work hard in order to commission nxt yr!! haha.. but time reali flies.. i wonder wat will b install 4 every1 of us in e near future.. k shall blog again some other time.. bcos i reali dunno wat 2 blog about.. jus come here 2 kill some time.. haha..
Love at 7:26 AM | 1 flying love(s)

[Monday, September 28, 2009]
i'm in a state of confusion!!
Love at 9:07 PM | 0 flying love(s)

[Friday, September 18, 2009]
aloha! its been quite a long long while ever since i MIA.. haha.. its bcos i'm servin ns so i dun hv time 2 blog.. my 3 mths is over so i'm havinmy blog leave.. my blog leave is endin soon.. nxt tues i need 2 report 2 my new trainin sch.. haha.. OCS!! here i come!! :D i'm gonna make it 2 bcom a UAV pilot.. tis is gonna b my job for 6 yrs.. wahaha..
lately i've been spendin time wif darlin.. go out wif si wei along wif my buddies as they wanna meet up, outin wif my poly frens.. celebratin tw's 21st bday n so on.. quickly tk tis time 2 meet up wif those i haven been meetin 4 quite sm time.. so anywan wanna meet up jus let me knw.. but i goin back 2 trainin tis comin tues so after tat can onli make it on wkends preferably sat.. haha.. its reali been a breeze hw fast BTM had came n go.. its reali a life time experience.. meetin new frens here n there.. i'm glad makin new frens who r reali nice..
i think 4 nw will b a short post cos i dunno wat shld i type also.. haha.. cos i reali 4gt quite a lot of things here.. lol.. but i try 2 post whenever i'm free.. haha.. n also i'll change my blog skin when i find a suitable 1.. cos i reali cant find any nice 1 currently.. haha.. kk shall post again.. gonna concentrate on e upcomin vocation!! i wan 2 b a commission officer in order 2 gt a better career in future.. for my family's future i'll work hard!! wahaha!!
Love at 1:26 PM | 0 flying love(s)

[Tuesday, June 9, 2009]
las wk went 2 guang's place 2 bunk over 2 gather b4 army.. 5 of us guys bunk in guang's room playin da di.. haha.. but nt gambling, dun gt e wrong idea, we do push ups instead 2 gt prepare 4 army.. haha.. we'r kinda crazy cos shawn thou since its our las gatherin so y nt we drink n celebrate b4 go army.. haha.. so they bought 12 small bottles of beer consist of henikien & hoegarden.. haha.. later we change 2 "link" game we added vodka n 1 more green liqour guang brought in.. lol.. i 4gt e name of it.. haha.. guang, shawn, loy n i drank.. wei hung onli took a few seeps.. haha.. cos he dun wan 2 drink tat day.. after tat we went 2 mac near guang's hse 4 sm supper.. haha.. after tat we went b 2 his place then after tat loy KO.. haha.. so all of us also cannot tahan liao all went 2 slp.. nxt mornin went hm after breakfast at guang's place.. thks 2 his mum.. lol.. she's veri frenly also..
then las sat went out 4 family dinner wif my maternal side.. i brought darlin along 2.. haha.. she's kinda ps.. but after a while she kinda gt use 2 it.. hopefully she enjoyed herself.. haha.. after dinner we went bowlin, but she didnt bowl cos she doesnt wan 2 hurt her hand.. nvm hopefully can do other things than bowlin.. lol.. my uncle sent her hm then i sent her 2 her hse b4 goin hm.. lol..
las 2 nite yl brought us 2 marina barage at nite.. well quite a well spent nite.. haha.. we played true or dare but all play true cos we wanna knw each other's secret.. haha!! but kinda fun la.. haha.. e nite scene nt bad sia quite nice but still hv 2 wait 4 e IR 2 finish buildin then will b even nicer.. haha.. after tat we went supper at Jalan Kayu, went there 2 eat prata.. lol.. went hm ko until nxt mornin.. haha..
then las nite went out 4 dinner n movie thou i was broke but lucky thing was e movie on mons is 6.50 so i still can make it.. haha.. terence n rizal went along wif me n idy.. haha.. we watch e movie a nite at e museum 2.. haha super funny!! its nicer than part 1 i guess.. haha.. e way e stupid egyptian king speaks is veri funny.. seems so short tongue.. haha.. but its on purpose 4 e movie.. lol.. another well spent evenin b4 goin in 2 army.. haha.. tis most likely e las post b4 goin in ba.. haha.. kk gtg prepare liao later goin prawnin wif darlin n qi jun, yl, rizal they all thou i'm nt prawnin.. but go there chill cos budget >.< haha.. kk post soon after 2 wks of confinement..
found sm vid i suddenly feel lik embeddin on my blog.. haha..
Love at 9:17 PM | 0 flying love(s)

[Monday, May 25, 2009]
yester went 2 support guang n zi wei's dance perfomance at SCGS.. met up wif shawn n loy.. we meet up at newton then we bus dw.. haha!! e performance wasn't half bad.. it was nice though.. cos we initially heard tat there were quite a no. of contemporary dances lik ballet, belly dancin, Egyptian dance, Hawaiian dance n flamenco.. smhw will giv u an idea of e word BORIN!! haha but in e end it was nice!! e effect came out was DOPE!! haha.. e cute little kids came out in dances lik ballet n hawaiian dance.. haha can onli say they r reali cute n funny.. it reali makes u think tat bein a kid is reali fun.. haha.. guang's grp performed hip hop.. erm i nt 2 sure of e term but i onli knw e dance was nice!! haha.. after e show we met up 2 chat 4 a while then bus dw 2 city hall 2 meet e rest 2 celebrate loy's belated.. haha.. shawn n guang didnt go cos they gt smth on after tat..
met up wif shirley, hsin wen, wei hung, kai lin n jasmine.. we dined n pepper lunch.. haha.. then shirley did sm stun which put loy, wei hung n i in laughter!! so much laughter cos they reali lik 2 do stun.. haha.. after tat we brought loy 2 suntec's cotton on n blaff him there 2 gt his belated gift on e spot makin him change so many clothin b4 buyin.. he initially thou tat both he n i were sharin cos there was a promotion.. but tat was part of e plan 2 trick into tryin so we can buy 4 him.. haha.. then we brought him 2 esplanade 2 sing him a bday song n all b4 we go hm.. haha.. we gt him a veri nice t shirt!! sexy~! haha..
here r e pics i took durin e dance show.. but its nt veri clear though.. cos i'm quite far away..
the t shirt we gt 4 loy.. haha.. it looks nice on him!! haha..
Love at 1:50 PM | 0 flying love(s)

[Sunday, May 24, 2009]
i knw i haven been postin 4 quite sm time.. haha.. cos i'm lazy 2 post ar.. cos nth reali happen much except e usual things lik spendin time wif darlin b4 goin army bball & band prac on sat.. its reali quite fast hw time pass.. but its reali reali veri fast.. rizal also went 2 egypt 4 2 wks liao.. he's comin back on mon!! haha.. hope he didnt 4gt 2 brin b my Pyramid of Giza!! haha.. tat's reali crazy!! hohoho!! 2 more wks i'll b enlistin into NS liao, cant imagine tat day.. haha.. dun reali look 4ward 2 it neither loathin abt it when e day is approachin.. but i jus find tat its reali a waste of time where tis 2 yrs i can use 2 do smth else.. lol.. but ok la still hv 2 serve it wat 2 do.. but smhw will learn sm survival skills la.. haha.. 12 june will b e day!!
btw i found sm vid again when i'm lookin 4 songs.. happen 2 find sm nice 1..
its a familiar 1 which i think u will knw.. :)
tis 1 is quite old but e song is nice.. retro rock!! haha.. found it when i play e game guitar heroes, on Wii.. haha..
tis is new.. by Chris Daughtry - No Surprise
new also, David Cook - Come Back To Me
Love at 1:30 AM | 0 flying love(s)

[Friday, May 1, 2009]
been quite lazy 2 post 4 e past few days n wks? haha.. cos its always been e same days over n over again.. kinda bored, so i went 2 interview 4 a job at e new cafe at tamp 1, tea dot cafe.. so lookin 4ward 2 work n can earn extra income b4 army.. went 2 apply n sent my resume 2 e company le.. then few days after tat, i receive my letter.. totally sian diao.. all plans gt 2 change even my bday celebration plans gt 2 shorten.. aiyo reali quite a spoiler sia but wat 2 do? i cant do much either, i've gt 2 serve e nation.. still gt abt a mth & 12 days till enlistment day.. tat's when i'm goin back 2 my pri sch era liao.. meanin goin 2 b botak soon!! at hm reali bored until dunno wat 2 do.. shall go do things lik play my guitar again or mayb go 4 blood donation ar? haha.. idea!! since i haven been donatin ever since i grad frm poly.. i shall do it nxt wk if possible..
Love at 11:46 AM | 0 flying love(s)

[Sunday, April 19, 2009]
ok lets summarize wat happen tis wk.. i'm lazy 2 detail it thoroughly.. ok mon till thurs i had my sec sch fren chalet.. well its been a long time since we hosted 1.. tis time tis chalet is kinda bored compared 2 past fews.. i dunno y.. seems lik there's a gap there.. tat's wat i feel la, i might b paranoid.. well i dunno.. i jus dun reali enjoy myself tat's all.. all e pictures r uploaded on my facebook acc.. so jus go there view frm profile..
nearin 2 e end of tis wk i went 4 bball as usual wif rizal they all.. n after tat we went 4 meetin 4 e alumni band.. it had already been approved by e teachers so 1st prac will commence on tis upcomin sat.. other than tat i stay at hm 2 think of wat ideas can i gt in designin darlin's card.. cos tml will be our 1 yr anni.. i'm kinda lookin 4ward 2 it ever since las mth? ya.. i stayed up till 4 plus 2 finish up e card las nite as e past few days i couldnt gt a decent design out.. but i managed 2 las nite.. 2day prepared everythin then head 2 my hse market 2 buy a blue rose 4 darlin cos e previous 1 i gave durin v day reali didnt appeal 2 her.. so tis time gt e colour she likes compared 2 e previous colour, then head over 2 her hse 2 pass her e gifts.. supposely 2 go watch movie, but darlin is 2 tired cos of past activities she gt 2 attend causin her 2 wear out n nt enuf rest.. so no choice we 4go 2day's event so she can rest.. well its kinda disappointin cos after all can onli spend 1 yr anni once in our relationship ma though tml is e actual day, but i cant do much ar.. i rather she gt e rest then havin moodswings due 2 lack of rest.. well lets hope she gt enuf rest 4 these upcomin days.. but after all i didnt blame her ar cos i knw she lack of rest..
Love at 10:14 PM | 0 flying love(s)

[Sunday, April 12, 2009]
haha upload tis MV Nobody by e wondergirls.. its a nice song..
e guy singer: nobody nobody but~ poop!! you~.. haha.. after u watch it u'll understand.. haha..
i want nobody nobody but you~ haha.. nice song!!
Love at 2:03 PM | 0 flying love(s)

[Saturday, April 11, 2009]
lately haven been doin much things.. onli lik helpin yl 2 go order his bday cake.. go shop 4 his bday present.. haha.. oh ya n goin over 2 qi jun's hse 2 do yl's bday card.. haha.. well its a big success tat he likes e card sm hw.. then las nite went 2 his bday party at pasir ris's aranda country club.. wow! he told me he spend near 2 abt 1K 4 his bday preparation.. haha.. b4 e chalet well had a small quarrel wif darlin cos we both r smhw grumpy cos we didnt had much rest.. but things were back 2 normal after a while.. durin his bday celebration we took lots of pic as usual.. n his poly frens drunk him.. well he almost gt drunk.. well but we didnt do wat his poly frens did.. they r 2 crazy alreadi.. haha.. send darlin hm at quite a late hr.. then off i go 2 return e car 2 my aunt.. after tat went back 2 yl's chalet then we play bowlin.. cos e rest of them waitin 4 me 2 come back 2 e chalet after returnin e car.. after e bowlin game, boon hwee suggested tat we go back n play card games.. ok so i jus play wif them since e chalet also gt nth much 2 do.. after tat we played Wii.. haha.. went hm 2 slp tis mornin at abt 9 after showerin.. super tired.. then woke up near 3 quickly bath n off 2 meet rizal n e rest 4 bball at feng shan cc.. rizal waited 4 lik 1 hr plus.. sry 2 made u wait dude.. haha cos i reali cant wake up.. sm hw 2day bball quite fun.. reali gd exercise.. haha.. ok 2day shall stop here ba.. dunno wat 2 write liao..
Love at 11:14 PM | 0 flying love(s)

[Friday, April 3, 2009]
2day will b a short post.. cos nth much happened 2day, bcos i'm at hm e entire day.. wahaha.. hmm, jus nw when i was surfin e net on yahoo i came across tis video which is veri interestin.. its smth gt 2 do wif golf.. 4 golf lovers u can try tis if there is a chance ever came upon 2 u.. tis golf course can onli b found at africa.. n tis is real.. no kiddin.. check e video 4 urself..
n tis is e 2nd sequel 4 transformer 2, revenge of e fallen.. its omg.. beyond explaination.. haha.. i jus cant wait 4 it 2 b out.. here's e trailer
Love at 8:33 PM | 0 flying love(s)

[Thursday, April 2, 2009]
came across sm videos on you tube.. haha.. found sm nice mtv.. here r sm..
Love at 2:09 PM | 0 flying love(s)

[Thursday, March 26, 2009]
yeah!! 2day is a day where darlin hv no sch.. so~ we thou of goin 2 johor~!! 4 shoppin.. so i gt up early so as she did, gt ready anxiously n wanted 2 go 4 our trip 2 johor 2gt.. but rite b4 i leave e hse i went 2 check my passport.. OMG!! i thou was 4 Aug 09 expire.. but it turn out 2 b 07 expire!! alamak!! expire 2 yrs ago liao bro.. shit man.. i made a stupid fool out of myself.. haiz.. then so i called idy n change our plan.. haiz i've bcom a spoiler 4 her day 2 johor liao.. so i came up wif an idea y nt we go prawnin at pasir ris which is near pasir ris army camp, since we gt nth 2 do in spore liao.. so in e end she agreed.. haha.. so we changed our plan n we go there prawnin.. then we said y nt ask rizal along.. haha.. then we ask jk n kangli along as well.. so end up 5 of us go prawnin.. kangli came at a later time.. haha..
they gave us chicken heart 2 fish e prawns as bait.. haha i jus cut e chicken heart wifout hesitation.. lol idy dun dare 2 even go near it.. haha.. i understand cos of e smell.. so i dun mind do e job so tat she has e bait 2 fish e prawns.. haha.. we nearly caught e prawns 4 abt 15 times.. its a 15 time failure.. but she didnt giv up.. so we keep tryin partly bcos e 1st 2 rod wasnt tat gd.. so we change 2 e 3rd rod.. n 1 uncle there taught us hw 2 catch e prawns wif e rod.. after sm trial n error then we managed 2 catch e 1st prawn.. haha.. can c she hw happi she was.. then i knw tat 2day's prawnin event was kinda worth it.. can c tat she enjoyed herself.. ended up we caught abt 4 prawns.. thou i knw its kinda little but e experienced was fun after all.. rizal, jk n kangli shared 1 rod 2 fish e prawns.. haha.. they onli caught 2 cos they onli fish 4 onli 2 hrs.. its kinda nt easy if u tried 1st time cos u dunno when 2 fish e prawn up wif e rite timin there goes ur prawn.. swim~!! haha.. then later we took sm pics n went hm.. b4 she went 2 her ah ma hse we went 2 near yl's hse tat coffee shop 2 da bao hokkien noodles.. she had cravins 2day so we go da bao but didnt expect tat my parents were there eatin dinner as well.. haha.. then she was shocked 2 c my parents.. haha.. can c she ps ar after all 2day is e 1st time she meet my parents thou its a brief 1.. haha.. but 2day reali enjoyed ourselves..
can check out e link if u guys interested 2 go prawnin as well.. tis is e best place n price le..
we made sm research.. haha..
C & R Fishing
70 Pasir Ris Farmway 3
Rates
$12.00 per hour
$24.00 per 2.5hrs
$36.00 per 4hrs
Bait Provided
Chicken heartOperation Hours
8am - 12am everyday
Parking
Free Parking
Note:
Personal equipment allowed
Love at 10:15 PM | 0 flying love(s)

[Wednesday, March 25, 2009]
these few days hv been rather "dry".. kinda bored though.. wif nth much 2 do.. hmm, workin tis comin fri.. hopefully they need new ppl so i can gt a couple of my frens into e company as well.. hmm, dad's health seems 2 b in better condition already which is a gd thing.. accompanied him 2 general hos yester e doc says he needs 2 rest more n finished up e medications given 2 him n go b 2 tk a x-ray 3 wks later.. its kinda a gd news.. as 4 me.. haiz i fallen sick.. but its nth major, dw wif a slight cough n infected throat.. doc says i lack of rest, therefore eat medication n rest more!! haiz.. then 2day mornin wake up kinda frustrated.. i also dunno y.. dunno is it bcos i'm sick? or nt enuf rest? or dunno wat? made me felt so frustrated n bcos of tat i quarrel wif idy 4 no apparrel reason.. haiz.. its my fault cos i knw i mistreat her.. i think at tat moment i didnt reali control my frustration.. does bein sick makes 1 self lik tis?? after tat i went 2 apologies 2 her.. but thankfully everythin was alrite.. n we r back 2 normal again..
Love at 8:49 PM | 0 flying love(s)

[Sunday, March 22, 2009]
lately haven been anythin fun except 4 goin 2 frens' 21st bday.. well went 2 marcus's bday celebration on thurs n we gt him presents which he likes.. haha.. luckily.. hmm, well upcomin 1 is tml which is gilda's.. on fri i met up wif darlin 2 go hv lunch wif her mum.. we went 2 raffles place 2 meet her.. then later we walked 2 city square 2 makan.. i had a great time spent though it was a few hrs.. her bro came later after his bball game wif frens.. thnk u aunty 4 e lunch treat.. after lunch buffet we walked 2wards suntec frm raffles place area.. every1 was lik bloated.. haha, so we walked n digest e food.. i went 2 work tat day it was a las min job frm e com shiftin company.. sry 2 those who wanna work but they wan "old bird" as in experience ppl who worked b4.. n tis job intakin of new ppl is veri low so hv 2 wait 4 opportunities..
well dad's health wasnt been veri gd lately.. he had been sick since las wk.. lots of ppl fallin sick.. i'm gonna fall sick soon.. gosh! i need 2 tk care of myself.. then few days ago n yesterday dad went 2 hos 4 a checkup n consultation of e doc.. he also took a x ray 2 c wat happen.. found out tat he had lung infections.. nw he's on medication.. hope he'll recover soon.. b4 i finish my postin here, jus wanna wish darlin all e best 4 tml's exams.. hope u do well..
Love at 7:28 PM | 0 flying love(s)

[Saturday, March 7, 2009]
hmm 2day bball again as usually every sat.. hmm, reali quite sian ar nearly e whole afternoon rain!! aiyo e weather is reali bad lately.. hot n cold, can fall sick easily if 1 didnt tk proper care.. hmm, well due 2 e heavy rain 2day we can onli play 4 a while then we seek shelther under ling mei's blk.. haha.. reali quite jia lat cos its a bad thunderstorm.. so while rainin we play card games under e void deck.. erm but we r nt gamblin 2 b honest.. we r bored tat's y we play sm card games 2 entertain ourselves rather than stonin there.. haha.. cos we r waitin 4 e rain 2 end then we can continue.. haha.. after tat indeed it stopped rainin then we continue our bball game!! woot! 2day's game nt so bad.. quite fun, e las 3 game b4 we end was reali challengin, 3 against 4.. n i'm in e grp of 3.. its tirin but e effort was worth it.. haha.. we managed 2 win e odd game! haha.. then dinner after tat.. didnt eat accompany e rest instead cos dinner is waitin 4 me at hm.. haha.. my cook ar so cannot waste her effort.. :)
lately quite a lot of things is up in my mind.. so many things 2 wonder.. aiyo! i need sm guidance..
Love at 10:09 PM | 0 flying love(s)

[Friday, March 6, 2009]
ok 2day short post.. cos kinda tired after a long day.. partly is bcos yester tw came 2 my hse n we played com games till 6 am.. omg.. reali e longest record 4 me so far.. nearly couldnt take it.. then slpt at 6 am till 1.30 pm.. still tired.. then wake up go damai meet up wif rizal.. kas, mu en, vanessa, qi en n fairul was there as well.. nalfa n muzarkir went b but nalfa didnt go b 2 e band n muz onli went 4 a while.. teached e sec 1s.. its reali a tirin thing especially 2 look after a bunch of monkeys.. tis batch is super mischievous.. omg!! reali wears me out.. hmm then after tat went 4 dinner wif rizal n mu en.. darlin came after her band.. hmm, i knew tat her higher mother tongue result wasnt so gd.. then she bcome moody.. tired 2 cheer her up but wasnt 2 gd.. seems lik nt reali workin.. well think i need 2 find other ways 2 cheer her up.. but i'm kinda worried 4 her..
Love at 10:47 PM | 0 flying love(s)

[Wednesday, March 4, 2009]
yester was my dinner n dance a.k.a prom nite.. haha.. well lets c wat happen yester, hmm afternoon i gt up n slack 4 a while b4 meetin darlin 2 go damai.. we go there n eat lunch.. haha we budget a bit ar.. lol.. hmm mei xuan came wif her frm sch.. aiyo she didnt tell me she comin if nt i can pass her e belated gift i owe her.. haha.. i went back jus 2 teach e sec 1s cos e main band gt smth on i think n partly mr wong yester came at 5.30.. i left at ard 4 n idy actually wanna go but she didnt eventually cos she cant make up her mind at 1st n partly also she gt violin class yester.. hmm its ok tat she didnt come 4 my prom nite, i can join hers if she wans 2 brin me 2 her prom nite.. haha provided i'm nt in army liao.. lol..
i went 2 find loy n ed at far east.. haha loy was at e salon havin his hair-do.. haha.. loy reali look lik "han xing" (korean star) haha.. he own us liao.. haha.. well, ed's dressin wasnt 2 bad 2.. haha he gt e best male dressin award.. haha, but he was made 2 do hunky cat walk on stage.. lol.. gwen n JQ was asked 2 do sm kind of mtv actin.. haha!! tat segment was reali entertainin.. we laughed till we drop.. haha.. e food was delicious!! especially e lemon chiffon cake.. aww!! there was tis segment as well was e best dress female.. haha quite funny also they were made 2 do catwalk on stage in a sexy way then then later say "aww!! m i sexy?" in their sexist tone.. haha reali veri funny.. cos e host said all come up shy shy n music start can walk until so sexy.. haha.. reali hilarious.. lol!!
e top 3 prize 4 e lucky draw was reali OMG!! 3rd prize, sony digital cam.. 2nd prize, cannon digital cam.. n e top prize was a sony PS3!! ahh!! but e lucky winner was 1 of e gal who took part in e best dressed female.. reali veri lucky.. haha.. after e whole event b4 we went hm, we took quite a few pics.. haha.. here r sm..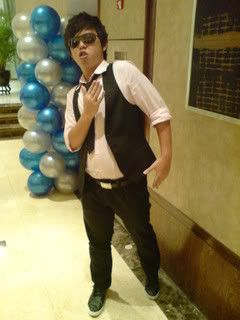 ah loy, our "han xing" of e event.. haha..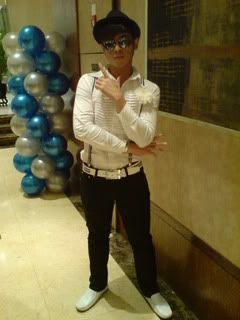 edwin, they call him e pimp 4 e CSI theme.. lol..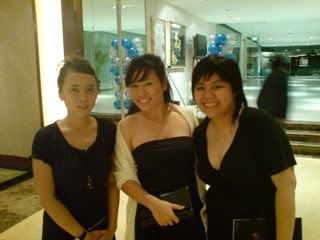 appearin in order, stacy, gwen n yi ling
guang n me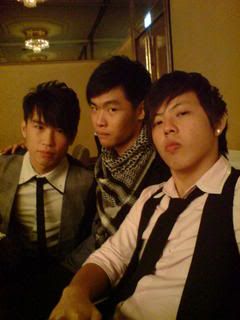 3 gangsters??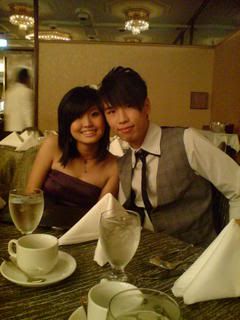 ziwei n shawn..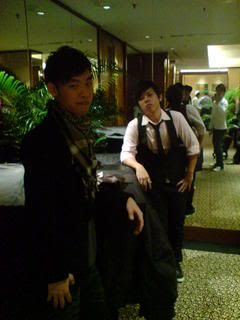 guang n loy in e handsome pose..
"han xing's" new photo shoot 4 new release album?? haha..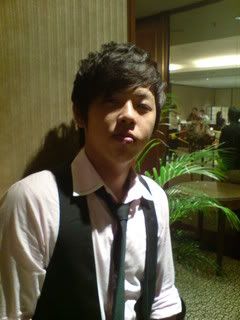 another pic of his new album cover, e limited edition 1.. haha..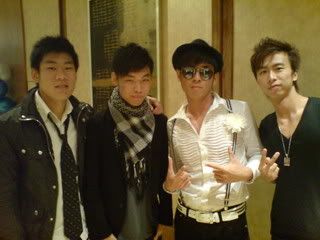 4 in a row!!
ed n me..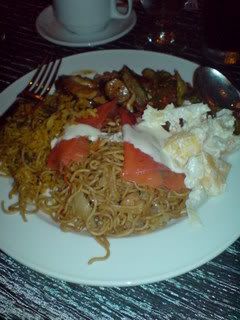 food!! yum yum!!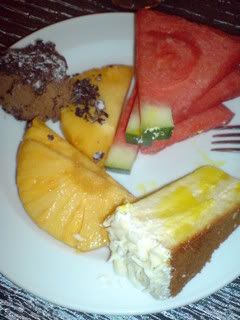 woo~ desserts.. nice!!
Love at 10:58 PM | 0 flying love(s)

[Wednesday, February 25, 2009]
poly is comin 2 an end 4 me n my frens.. well kinda weird also when u gt nth 2 do suddenly so most likely i'll find a job 2 keep me occupied till i'm enlisted 4 NS.. so meanwhile i enjoy my citizen life b4 bein a "slave" 2 e army.. haha!! but ok la its depend on hw 1 sees it.. well so these days will b spend 2 acc darlin, work, n do sm meaninful things lik charity? hmm been quite a while since i donate blood.. can do so since i'm free.. n also personal basketball trainin.. haha.. think 2day shall post a short entry ba.. gtg slp liao.. nitez..
Love at 11:58 PM | 0 flying love(s)

[Thursday, February 19, 2009]
2 days ago:
2 days ago i went 2 sembawang naval base 4 my V.A. (vocational assessment).. its e army assessment thingy 2 c if i'm suitable 2 join e NDU (naval diver unit).. so gt 2 early mornin wake up at 5.45 2 bath n gt ready, n e previous nite i didnt gt 2 slp well cos of e weather n mosquito.. sian.. then had a light breakfast liao then go tk bus n train travel dw 2 sembawang.. reali worst then travellin 2 sch.. so i try 2 gt sm slp anywhere i can if possible.. reach there still gt 2 do sm admin things n then gt 2 line up.. wait 4 bus 2 brin us 2 e naval base.. kinda bored cos went there alone.. haiz.. reach there le gotta surrender my hp at e front gate of e camp cos mine gt camera.. so e 1 n onli entertainment i had was taken away frm me.. so i quickly sms darlin tell her nt 2 call or sms me cos i wont b able 2 pick up any incomin call or sms cos its a whole day activity frm mornin 8 till evenin 8.. reali O.o" stunned.. we went in 2 do sm personality test dunno 4 wat 1.. then after tat they brin us go test out physical, do chin up n do standin board jump.. after tat ask us 2 swim.. they brought us 2 tis so call "aquarium" which is integrated wif e swimmin pool.. its 4 e instructor 2 look at hw e naval diver perform while trainin.. its reali a nice view frm inside.. haha.. n e pool is, 1 end is 1 m deep while e other end is 3 m deep.. n e centre of e pool?? 10 m deep!! omg!! haha.. i'm nt kiddin its reali 10 m deep.. haha.. shockin!! but we didnt swim neither e 3m nor 10m part.. after swimmin n everythin we had our lunch, kinda nice.. after tat medical check up.. gt 2 draw blood do tis n tat test.. aiyo by then every1 reali dozin off liao.. then they brought sm of us who r faster as in finished all e other testings, 2 go 4 tis pressure test.. they call it dry divin.. we were ask 2 change into 100% cotton clothin then go into tis huge cylinder n sit inside.. total gt 10 of us n 1 army medic.. they pump e pressure n test 2 c if our ear drum can tk e pressure.. haha.. i cant tk it went it went onli 2m deep.. so i opt out.. my left ear was in extreme pain.. so i wait 4 e rest n go 4 our interview by sm of e officers there.. after tat was dinner.. omg e dinner reali veri jia lat.. nt nice at all but hungry i jus eat anyway its provided by them so nt in e position 2 make a fuss.. haha.. but since they provide then eat lor.. hungry dun bother so much de.. haha.. after tat i went 2 e auditorium 2 slp.. haha.. sm of them who ended their V.A. also go there slp waitin 4 e rest.. then lucky e whole thing ended b4 8.. so i bus dw 2 pasir ris 2 wait 4 darlin cos she finished her violin class but she didnt knw cos she thou we goin hm individually.. but lucky she called n asked where m i.. haha if nt i'll still b waitin there.. i didnt call cos i dunno wat time she end her lesson.. after tat go hm shower n boom! laid flat on my bed n slp..
yesterday:
woke up rather early in e mornin cos of e stupid construction of lift at my block.. reali sian.. so no choice wake up liao slack n wait 4 time 2 pass 2 meet darlin go eat at E hub.. she wanted 2 eat Fish n Co. express.. its e cheaper ver of e normal 1.. e food is kinda nice n pricin is abt e same as mac.. so i think its kinda worth it.. haha.. after tat i send darlin hm.. after tat go hm tk a nap liao then go dw 2 dwtown east 2 meet loy, shirley, shida n her bf.. e rest of my classmates were elsewhere.. i jus met sm of them is bcos i onli go there 4 a while onli.. cos i there nth much 4 me 2 do there as it was already e 2nd day of e chalet.. i didnt go on e 1st day is bcos i had my V.A... so bo pian go 2nd day.. then i went there my clique onli left loy shirley n sm of them nia.. didnt stay long cos i gotta go b 2 meet idy 2 pick her up cos she studyin at mac wif yl.. so i tried 2 rush b but she say she wanna go hm 1st.. then i go mac find yl, qj, stac n lm.. we stayed there n tok nonsense.. though i knw they studyin 4 exams but i felt kinda guilty disturbin them ar.. but luckily then finishin e study soon.. after tat rushed hm grab my lappy go tw hse cos his com dw wif virus.. so i went dw 2 help him settle tat prob.. i stayed at his hse till 5 am.. almost bcomin a panda liao.. go hm slp lik pig sia.. wahaha!!
2day:
then 2day slp until 10 plus construction woke me up again.. reali pek cek sia.. arrgghh!! but i jus slpt on ar.. dun bother.. i trained 2 e highest lvl of slpin wif noises ard me.. haha.. woke up near 1 plus then faster bath liao go mac meet yl n co.. cos 2day is kaen's bday.. so accompany them study.. my intention was 2 use laptop at mac.. but didnt able 2 do so cos e mac was so packed n e sockets we already full wif so many ppl waitin 2 use.. so played yl's psp there lor cos dun wanna disturb e rest study while waitin 4 e socket.. then guang called askin if i wanna go out as they were at e east side cos they attend their commandos V.A... lol.. i wasnt able 2 go cos 2day they wanna celebrate kaen's bday as a surprise.. sry guang gotta turn u dw.. join u guys nxt time.. :) then bday boy suggested 2 play bball after they finished studyin.. finally i gt things 2 do.. but i still gt 2 walk hm 2 gt e bball.. after playin then we go makan n they surprise him at e coffee shop.. haha.. he was shocked!! lol.. e celebration was a simple 1 cos they were preparin 4 their exams.. so make it a simple 1.. haha.. then while walkin hm i called darlin 2 tok on e phone.. gt scolded by her.. i think she suddenly bad mood ar.. so i dun blame her, cos i think she 2 busy n tired wif sch work n everythin.. but she was ok after tat n sms 2 apologies.. :) i understand e stress she facin smtimes.. so i didnt tk it 2 heart.. :) k la its kinda a long entry think i shall stop here.. go accompany guang 2 play games liao.. haha..
Love at 10:11 PM | 0 flying love(s)